Taiwan 4D3N Tour All In!
If you love shopping, you'll surely enjoy this trip and indulge yourself in so many stores to shop in. You will experience and witness the culture and traditions of Taiwanese people once you visit Fishermans' Wharf, Tamsui Old St. and Taipei Martyrs' Shrine.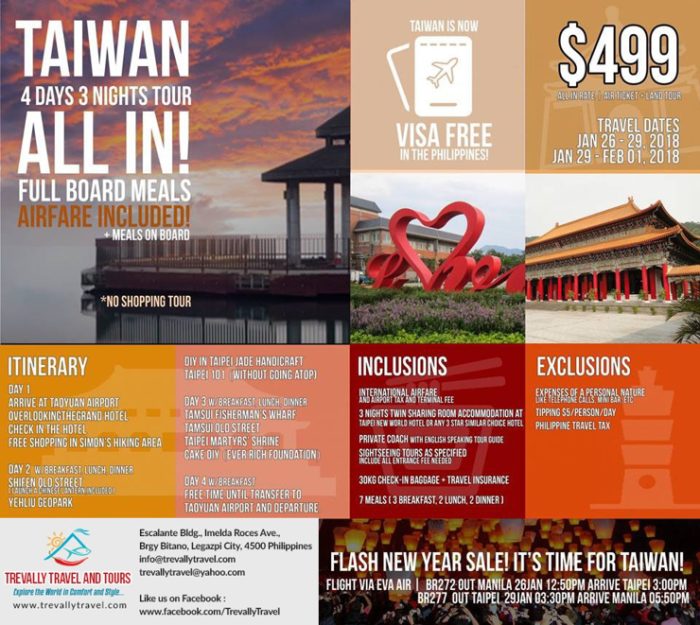 $499
All In Rate | Air Ticket | Land Tour
Inclusions
3nights room accommodation based on twin sharing at choice hotel with daily hotel breakfast
Private coach with English Speaking tour guide
Sightseeing tours as specified above include all entrance fee needed
Travel insurance
7 meals (USD5/PAX/meals)
International airfare and airport tax and terminal fee
Exclusions
Expenses of a personal nature like telephone calls, mini bar, etc.
Tips for driver and guide (USD 5/day/person)
Philippine Travel Tax (1,620 Php)
Travel Dates
Jan 26-29, 2018
Jan 29-Feb 01, 2018
All 3-star hotels
Single supplement will be charged US$ 90 per person (3 star)
Private Coach: Good and new coach with 45 seats. Coach cannot user more than 10 hours for full day usage.
In case above hotels are not available at your requested time; they will be replaced by similar ones.
All the services are based on a private basis
1 bottle mineral water per person per day
Ticket includes Yehliu Geopark, Shifen Sky Lantern(Quadra sharing)
The payment need to be paid within 2 working days, otherwise, the booking will be automatically released/cancelled.
It is only upon receipt of payment from TREVALLY TRAVEL AND TOURS that booking is confirmed. Full payment upon confirmation.
Once booking is confirmed and finalized, Tour Package is non-transferable, non-refundable, and non-rebookable.
There will be NO refund for unused portion, unused admission ticket, bus/van transfer or any other added benefits either in part or full.
Voucher issued is valid on the date of visit as stated.
All printed tickets are non-transferable. Amusement tickets, if any, allows only one entry. No re-entry is allowed. Loss of ticket will be solely under the full responsibility of the passenger.
Rate and itinerary are subject to change without prior notice.
Rate is valid only for Philippine passport holders.
Surcharge will apply for foreign passport holders.
For any pax who cannot pass immigration process in any International airport, the tour cost is non-refundable.
This is a Group Tour, as such, Client must stay with the group.
Passport must be valid beyond intended stay.
Passenger shall be fully responsible to check the validity if his/her own travel documents.
Passenger must shoulder any charges/damages for any cancellation made after booking finalization.
Luggages are the sole responsibility of the participants. The use of Porters are on pax account.
TREVALLY TRAVEL AND TOURS acts in good faith, acting solely as an INTERMEDIARY and an AGENT for vendors and service providers(i.e. Air and Sea Carriage, Hotel Accommodations, Ground transportations (Van/Bus/Boat), Tours, ATV Tours, Meals at Restaurants, Cruises, Travel Insurance, etc.) and as such, it is not liable for breach of contract or any intentional or careless actions or omissions on part of suppliers, which may result in any loss, damage, delay, injury, death, sickness, or accident sustained by the client and his travel companions in the course of availing the indicated services.
TREVALLY TRAVEL AND TOURSlikewise shall not be responsible for any injuries, damages, losses caused to any traveler in connection with terrorist activities, social or labor unrest, mechanical or construction difficulties, diseases, local laws, climatic conditions, schedule changes caused by weather or road conditions, force majeure such as natural catastrophes, strikes, abnormal conditions or developments, or any other irregularities, actions, omissions or conditions outside the travel agent's reasonable control.
By embarking upon this travel, Travelers (CUSTOMER) voluntarily assume all risks involved with such travel, whether expected or unexpected.
TREVALLY TRAVEL AND TOURS  reserves the right to refuse service to anybody. Every passenger on board the vehicle must respect the tour guide and the time frame in which a tour is scheduled to occur when you stop for photos, breaks, hiking, walking or visiting a site of interest. TREVALLY TRAVEL AND TOURS  is not responsible for any delays caused by the customer or individual who does not comply with the time limit a tour guide recommends for each stop or site. Please note that overtime fees may apply if applicable. TREVALLY TRAVEL AND TOURS reserves the right to remove any passenger who causes a disturbance to any individual in the vehicle, including the tour guide/driver, or poses as a threat to an otherwise smooth and safe trip.
Some tours may include physical activities like hiking, walking, kayaking, rafting, riding in vehicles/boats, which involves risks. TREVALLY TRAVEL AND TOURS  does not assume any responsibility for any injuries, accidents or health issues that might be a result from any of these physical activities. All of our customers are responsible for evaluating the potential risks of participating in any of our tours that may involve physical activity. Please immediately inform TREVALLY TRAVEL AND TOURS if you have any health issues prior to making your reservation.
The purchase of any travel services offered by TREVALLY TRAVEL AND TOURSconstitutes a contractual arrangement between the Client and TREVALLY TRAVEL AND TOURS and represents the Client's acceptance of the TREVALLY TRAVEL AND TOURS Terms & Conditions set out herein. Please ensure that you read carefully and understand these Terms and Conditions before making an actual payment.
It is only upon receipt of payment from TREVALLY TRAVEL AND TOURS that booking is confirmed. We require a Non-Refundable 50% down payment of the total package price and can be paid thru our BPI or BDO Account The 50% balance should be paid at least 3 DAYS BEFORE THE TRIP. All Rates are subject to change without prior notice. TREVALLY TRAVEL AND TOURS has the right to rescind the contract, refuse carriage and forfeit the down payment deposit if client fails to pay the remaining balance BEFORE the start of the said tour or travel.
For Cash Payment Deposit through Banks
Philippine Peso Account
BPI – Bank of the Philippine Islands

Account Type

Checking/ Current Account

Account Number

0851-0076-44

Account Name

TREVALLY TRAVEL AND TOURS

SWIFT code

BOPIPHMM
BDO – Banco de Oro

Account Type

Savings Account

Account Number

00-797-0017- 271

Account Name

ANNA JESSICA R. IMPERIAL

SWIFT code

BNORPHMM
Kindly scan your deposit slip payment and email to info@trevallytravel.com or viber it to 09175263388.
---