Bicol ATV Ride
Green Lava Wall Trail. Php 1,500.
The trail starts at Cagsawa Ruins in Busay. Daraga, Albay. It is a 5 minute drive from Ligñon Hill or a 10 minute drive from the Legazpi Airport.
The trail is a 7 kilometer (14km. total trail) river, sand and rock adventure challenge. It takes around 2.5-3 hours to and from the 1968 Lava wall. At the end of the trail is a summit and a vegetated (yes, green) Lava bed that Mayon Volcano has spewed on its 1968 eruption. It is 2,500-3,000 above sea level.
The 1968 Green Lava Bed is located in Brgy. Miisi of Daraga, Albay. From this vantage point you will see an exhilirating view of Albay Gulf, Misibis Bay, City of Legazpi and the 3rd district of Albay on the western front. Due to its high elevation, expect very cool to chilly weather. Dramatic sunrises and sunsets can be seen from this point.
Cagsawa Short Trail. Php 699.
Do not underestimate the shortness of this trail. While not as long as the Green Lava trail, it packs a lot of excitement as well, not to mention that Cagsawa Ruins is ​within the vicinity. Thus, tourists who have yet to visit the iconic church belfry ruins can do two things at the same time.
​
Especially for those who are pressed for time, the Cagsawa Short Trail will only take 45 minutes.
Cagsawa- Lava Wall Trail. Php 1,850.
A 3.5-hour, 6 km (total 12km) trail ride​. This trail will give you lots of turns, uphill and downhill slopes, river crossings and beautiful scenery.
The end of this trail is also the Lava Wall as described in the Pawa-Mayon Lava Wall Trail.
This trail is suited for the intermediate and experienced ATV riders.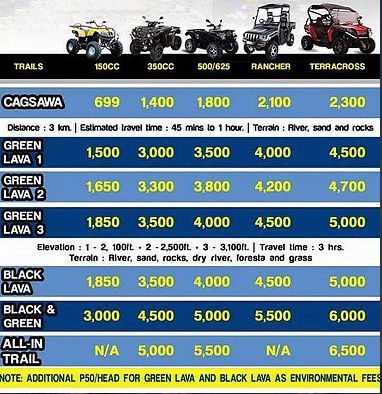 ---